Gaspard Brochet - Champagne Gaspard Brochet
Dec 08, 2023
E C E U I L | Champagne
An interesting part of seeing this next generation take over, is how they take the past and blend it into the future. Some producers left most of their family traditions behind while some are making small but significant changes. Gaspard Brochet seems to be doing a bit of both. Gaspard grew up in wine but worked in graphic design before returning home in 2013. In 2017 he started his own label and in 2019 he took over the full 3.18 ha of the family estate. In 2022, all of the wines will be under the Gaspard label.
Although he will completely change the labels, the history of champagne is still going to be an important part of production. One of his vineyards has never been farmed with fertilizers or herbicides. Some of the methods in the vineyard and cellar are completely hands off, something that naturally came from early viticulture in Champagne due to the lack of modern equipment and viticulture tools. When you visit, you truly feel a connection to Champagne and specifically the village of Eceuil. When you taste the wines, they are unlike any champagne you have tasted before. Full of length, depth and precision and a quality that runs throughout the range that makes each wine compelling and able to be recognized as his.
It seems that good winemaking runs in the family. Emmanuel Brochet is his uncle. This makes sense when you learn about the vineyard holdings. The vineyards are spread throughout Ecueil, Sacy, and Villers aux Nodes. All of the vines are plowed in the winter, have natural grasses and vegetation, and he makes his own fertilizer out of different fungi and natural materials to promote microbial life during the dormant months.
The Wines of Gaspard Brochet - Sold Out
Viticulture and Vinification
Gaspard's method is actually quite simple. His focus is to create an expression of the personality of each terroir, vintage, and varietal. He focuses on single vineyard , single vintage, and varietal bottlings. The grapes are picked at a higher maturity to avoid any need for sugar, the wines spend about 10 months in barrel for vinification. Everything in the cellar is done by gravity and never with pump. The wines are not racked, but stirred about 15-25 times depending on the cuvee. The wines are aged for 24 months then hand riddled in the cellar for about 8 weeks. He Is focused on no addition winemaking. Fermentation takes place in barrels of various kinds, some from Germany, Burgundy, and family barrels.
The Wines of Gaspard Brochet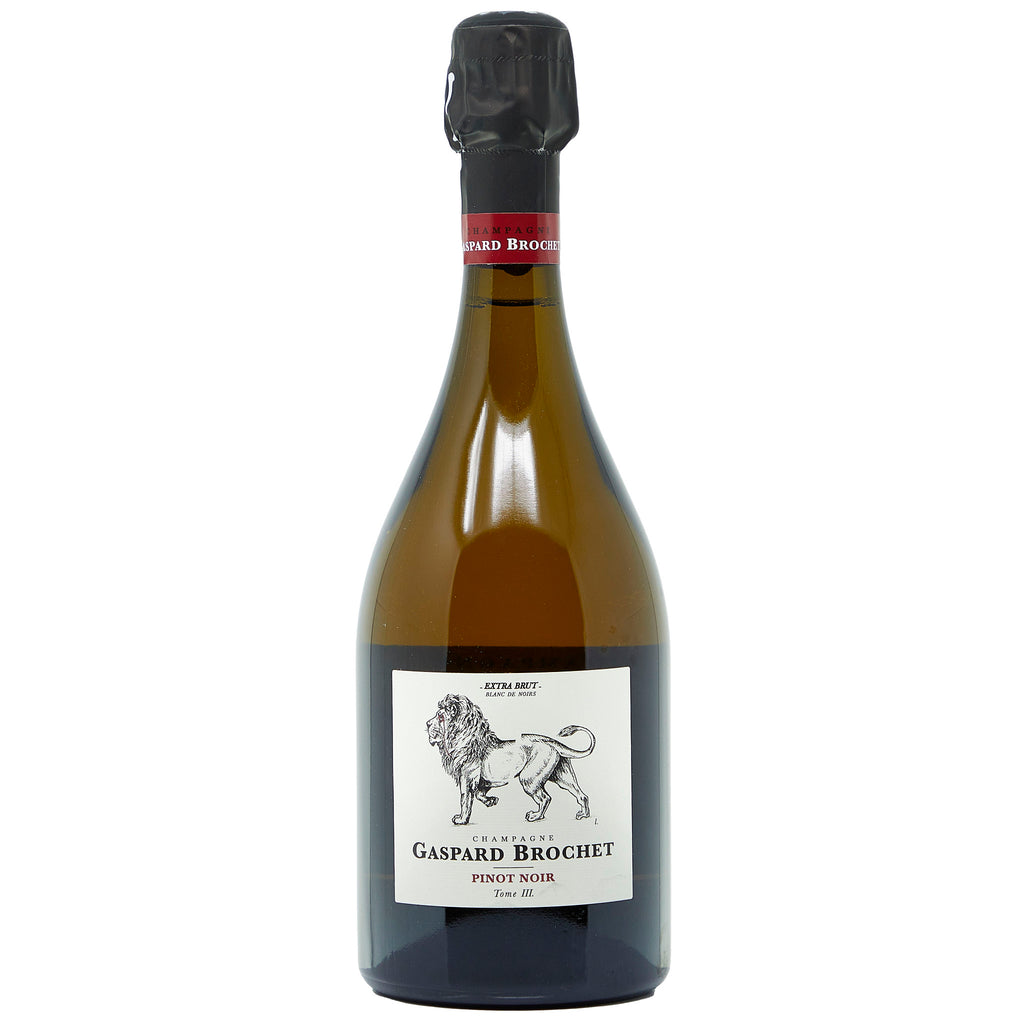 NV Gaspard Brochet, Lion Pinot Noir Tome IV Blanc de Noirs Extra Brut
ASSEMBLAGE 100% Pinot Noir 2020 Base
VINEYARD Mont Benoit, Villers Aux Noeuds
SOIL Silty Loam and Chalk bedrock
PLANTED 1985
DISGORGE 1.23
DOSAGE 0gr
BOTTLES PRODUCED 1070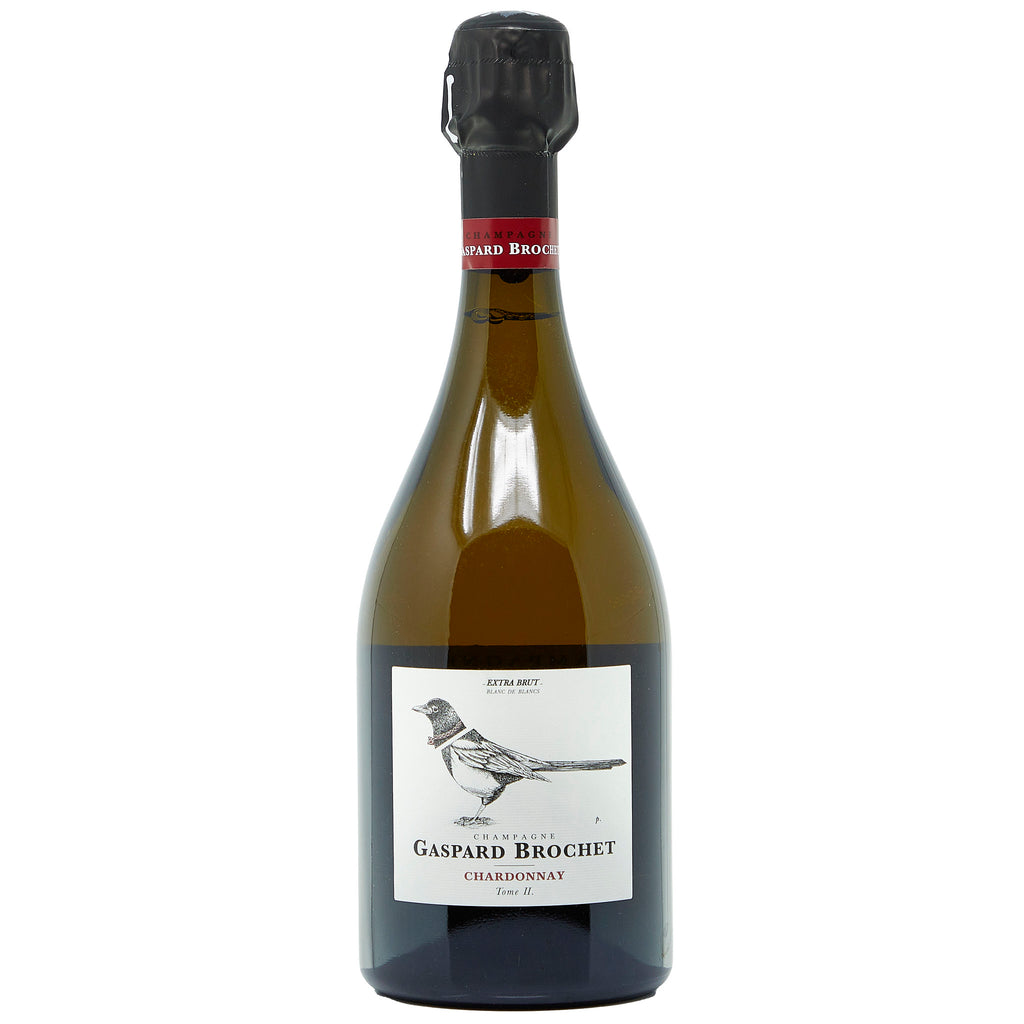 NV Gaspard Brochet, Pie Chardonnay Tome III Blanc de Blancs Extra Brut
ASSEMBLAGE 100% Chardonnay 2020 Base
VINEYARD Les Prés Mousseaux, Ecueil
SOIL Clay Loam
PLANTED  1989
DISGORGE 1.23
DOSAGE. 0g
BOTTLES PRODUCED 564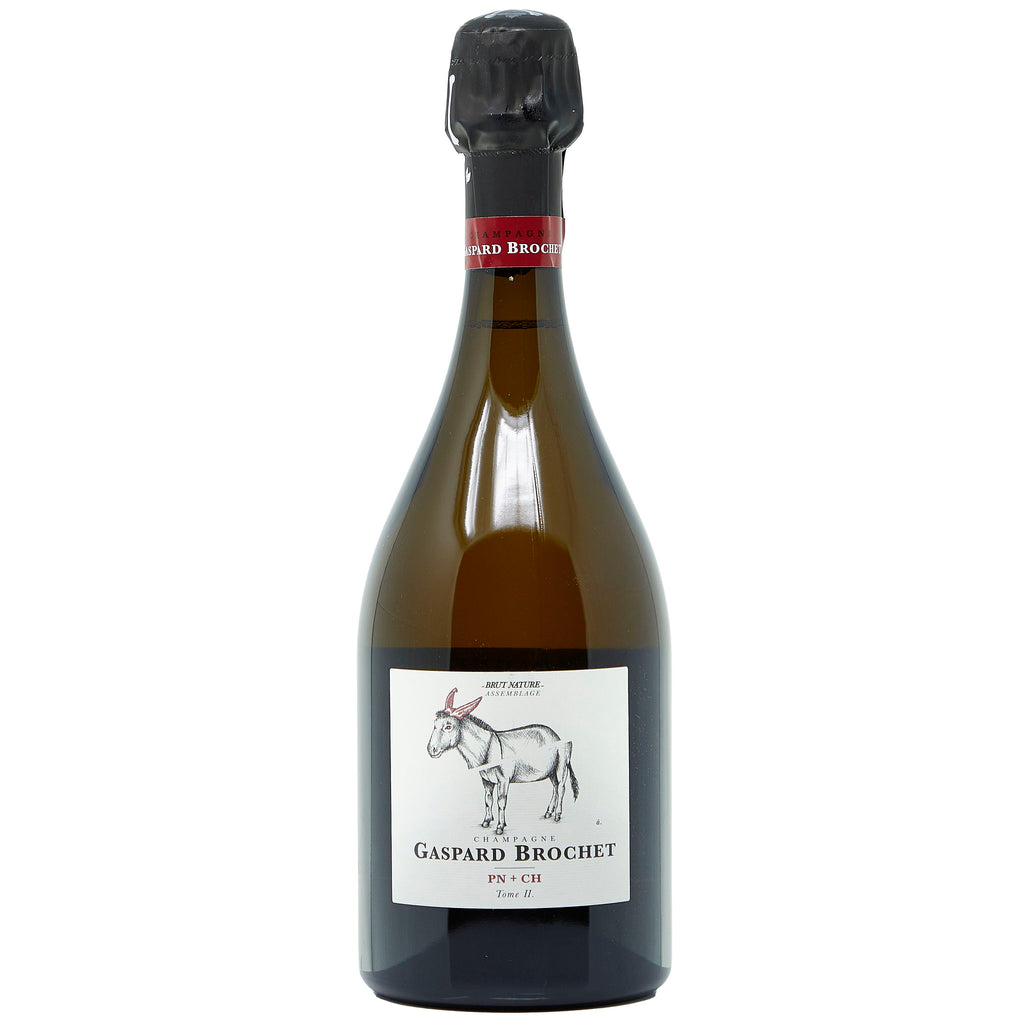 NV Gaspard Brochet, Ane PN + CH Tome III Assemblage Brut Nature
ASSEMBLAGE 50% Pinot Noir 50% Chardonnay 2020 Base
VINEYARD Les Beaux Bras & Les Prés Mousseaux, Ecueil
SOIL Sandy Clay
PLANTED 1956 & 1989
DISGORGE 1.23
DOSAGE. 0g
BOTTLES PRODUCED 552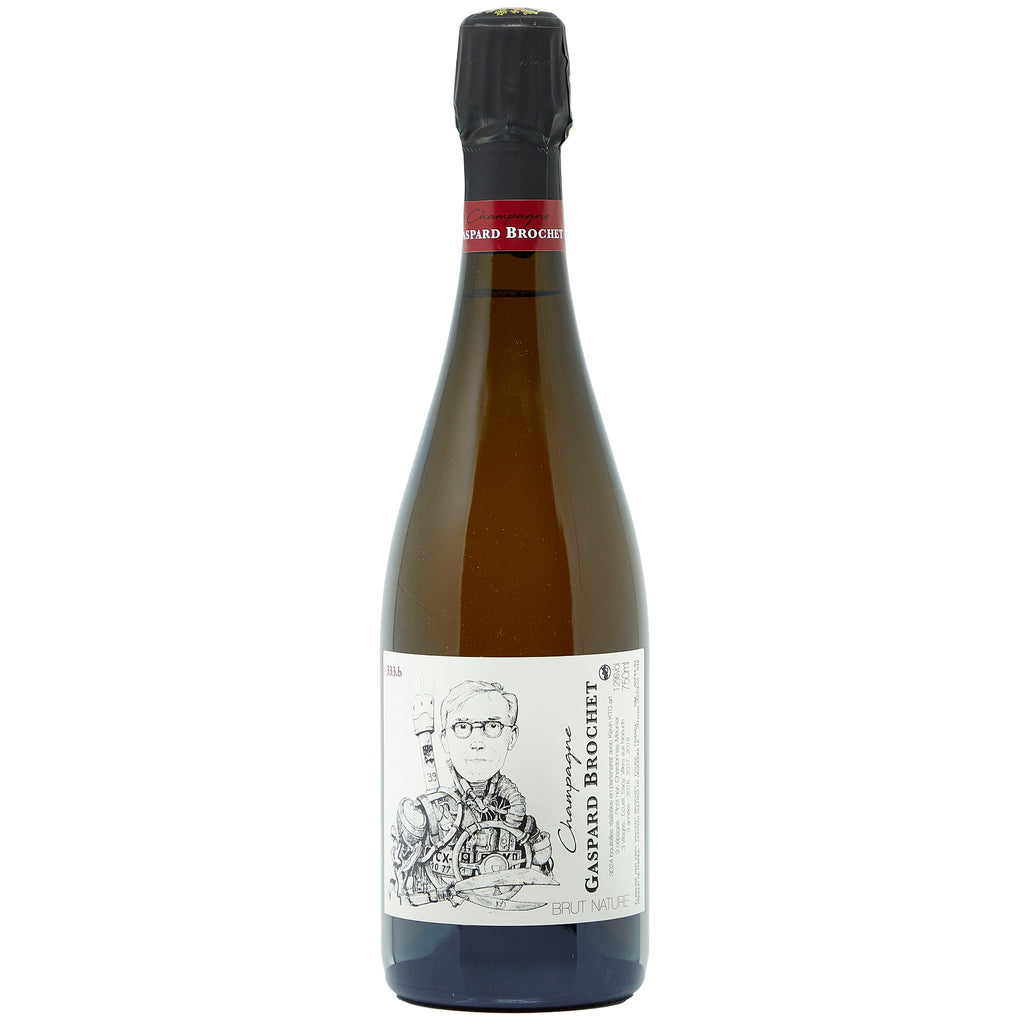 NV Gaspard Brochet 333 C. Brut Nature
ASSEMBLAGE 45% Pinot Noir 45% Chardonnay 10% Meunier  2020 Base
VINEYARD Les Beaux Bras, Les Prés Mousseaux, Mont Benoit,  Ecueil 70%, Sacy 20%, Villers-aux-Nœuds
SOIL Varied 80 % sand, 10% clay 10% Chalk
DISGORGE  2.23
DOSAGE 0g with red meunier in liquor of disgorge
BOTTLES PRODUCED 4032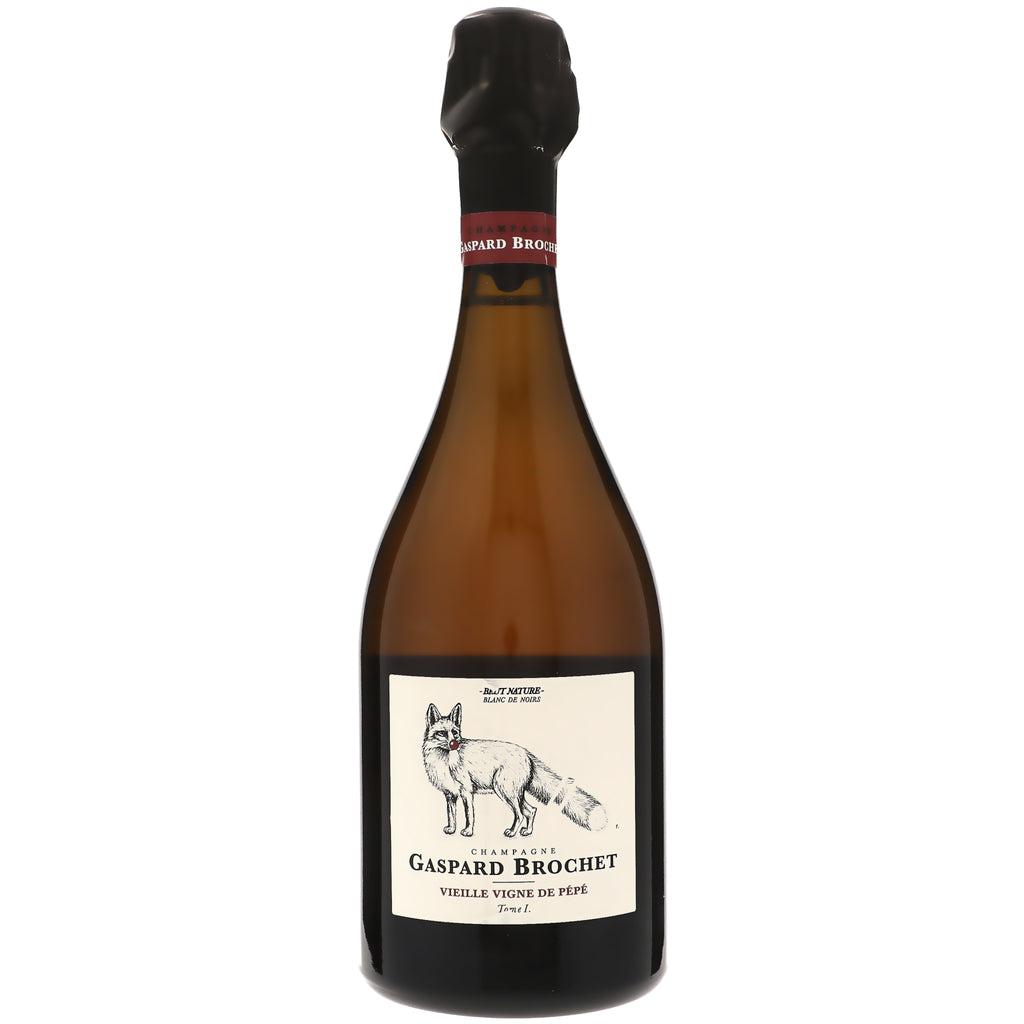 NV Gaspard Brochet, Renard Pinot Noir Tome I Blanc de Noirs Brut Nature
ASSEMBLAGE 100% Pinot Noir 2020 Base
VINEYARD  Ecueil- Les croix
SOIL Compact brown sand
PLANTED 1959
VINIFICATION Oldest Barrels
DISGORGE 1.23
DOSAGE 0gr/l
BOTTLES PRODUCED 432 under cork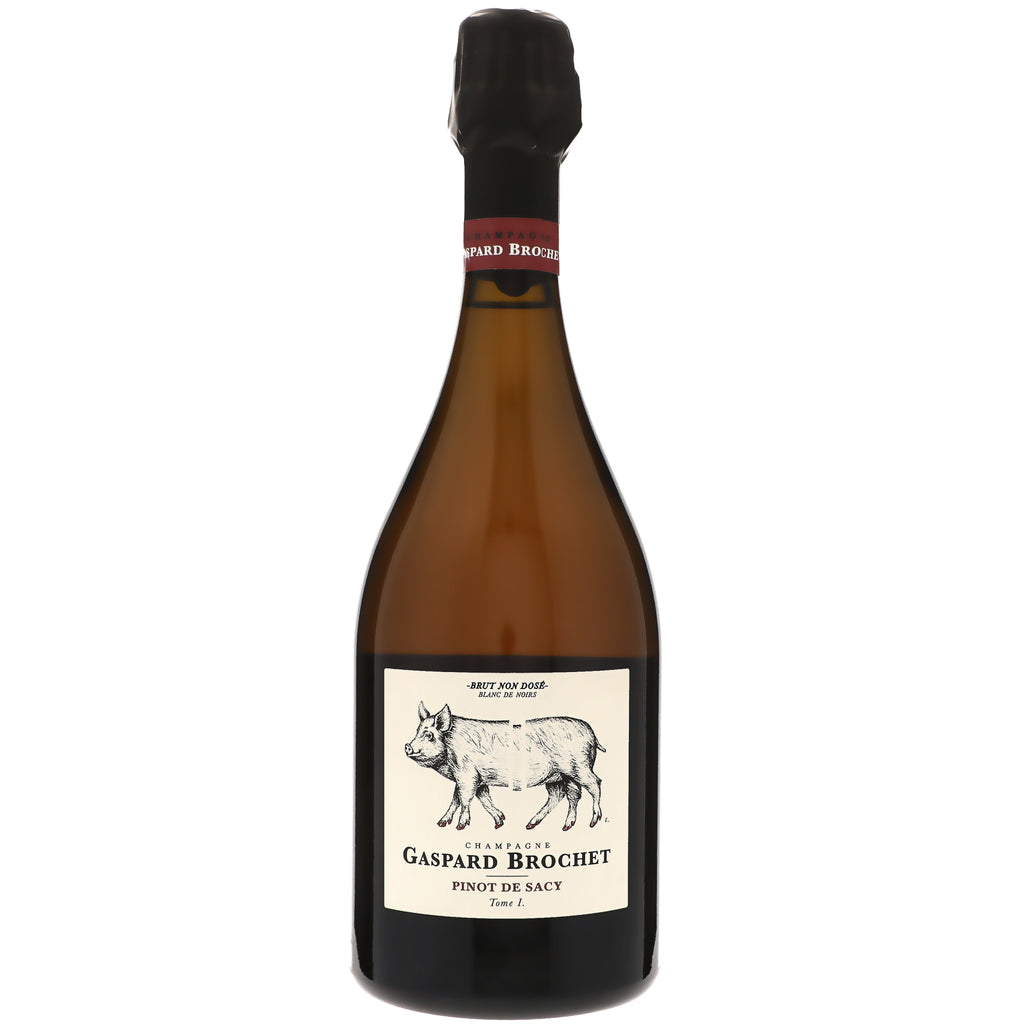 NV Gaspard Brochet, Cochon Pinot Noir Tome I Blanc de Noirs Brut Nature
ASSEMBLAGE 100% Pinot Noir 2020 Base
VINEYARD Les Eaux Belles
SOIL White Sand PLANTED 1988
VINIFICATION 450L barrels
DISGORGE 1.23 DOSAGE 0gr/l
BOTTLES PRODUCED 551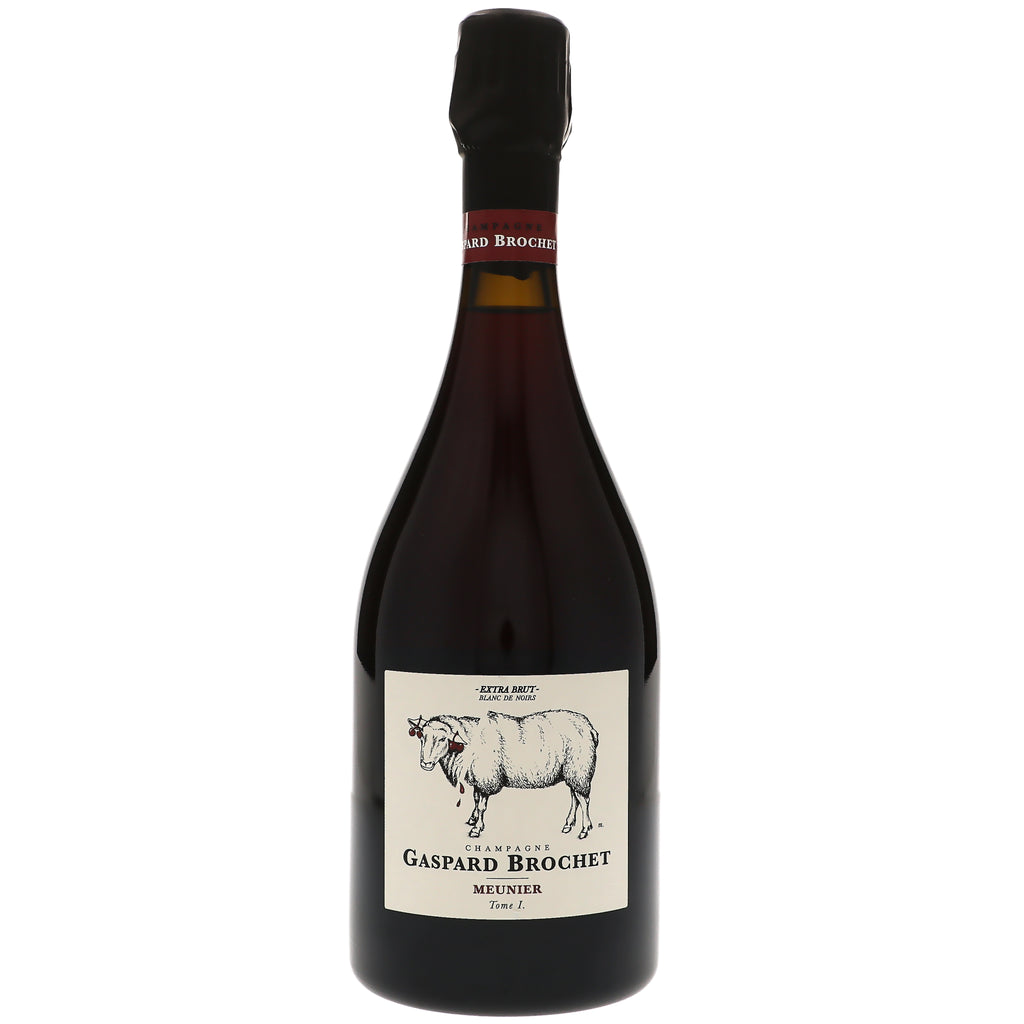 NV Gaspard Brochet, Mouton Meunier Tome I Rose de Maceration Brut Nature
ASSEMBLAGE 100% Pinot Meunier  2020 Base
VINEYARD  Ecueil La Montagne
SOIL  Green clay with poor low oxygen
PLANTED 1994
VINIFICATION  12 day maceration then pressed by foot. No oak or barrels
DISGORGE 1.23
DOSAGE 4gr/l
BOTTLES PRODUCED  573